5 February 2014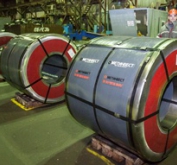 Ilyich Iron and Steel Works of Mariupol of Metinvest Group actively works over competitive ability improvement, diversifies product range and increases metal quality while reducing cost. In 2013 the company mastered five new metal product types.
Over the last year the company organized rolled plate production from Steel Grades SS540, Grade 60 type 1 and Grade 65 type 3. Electric Welded Pipe Shop (EWPS) started output of round electric welded pipes having diameter of 57 mm.
Ilyich Iron and Steel carries on work on certificates extensions (prolongations) and receiving new international quality certificates. Thus, in 2013 TÜV SÜD technical supervision took place for product mix of Cold Rolling Shop, sheet and plate rolling shops "3000" and "1700" and EWPS. Quality certificates were extended for ship building rolled production in accordance with Lloyd Register Rules (LR), Italian shipping register (RINA), Germanischer Lloyd (GL). Conformity Declarations were developed and approved to confirm the company's metal products meeting the requirements of European standards.
Production practices were revised and quality control was intensified in a series of the company's shops with the purpose of product rejection reduction and defect minimization. Implementation of new combined casting train assembly patterns for Open Hearth Shop allowed to improve ingot surface quality, and high carbon steel grades manufacturing practice with low hydrogen content introduced in BOF Shop allowed to reduce the hazard of metal breakouts. Generally for 2014 about 150 measures are scheduled aimed at output quality improvement.
In addition, the company's process engineers reduce expenses. Thus, a practice was introduced at Blast Furnace 2 on casting yard main chutes lining with refractory concretes which optimized repair process. Fuel oil and natural gas consumption was reduced during production of open hearth steel due to hot metal flow rate increase.
"We revised and approved target quality values for each production department. High quality steel and rolled products certified according to international standards at competitive price are our image and guarantee new sales markets for our company", stated Yuriy Zinchenko, Director General of "Ilyich Iron and Steel Works of Mariupol", PJSC.
For editors:

PJSC "ILYICH IRON AND STEEL WORKS OF MARIUPOL" is one of the largest integrated enterprises in Ukraine. The enterprise produces pipes and flat rolled products of carbon, low-alloy and alloy steels for different applications: hot-rolled plates and sheets intended for manufacturing of pipes for main pipelines, ships, pressure vessels, bridge structures, other steel structures for critical application; hot-rolled plates, sheets and strips including pickled; cold-rolled, including galvanized bands, sheets and strips, including for cold stamping, flooring and others; thick-walled pipes including for oil pipe lines; water- and gas-supply welded thin-walled pipes of circular section and structural pipes of rectangular section; flasks for different compressed gases, including automobile and others.

50 certificates issued by seven International Certification Bodies and Ukraine Certification Centers confirm high quality of steel products of 200 steel grades produced at the enterprise. Quality Management System is functioning at PJSC "Ilyich Iron and Steel Works of Mariupol" developed and certified according to the requirements established in ISO 9001.

Production facilities of the enterprise allow to produce about 6.1 million tons of steel per year, 12 million tons of sinter, more than 5.5 million tons of iron, more than 6.1 million tons of steel including BOF steel – 3.6 million tons, more than 5 million tons of finished rolled products.

Metinvest is a vertically integrated mining group of companies, operating the assets in each sector of the production cycle beginning with iron ore and coal mining and coke production up to the manufacture of steel semi-products and finished products, pipes and coils as well as production of other products with high value added. The Group consists of mining and steel works situated in Ukraine, Europe, and the USA and has a chain of sales covering the key world markets. The chief stockholders of Metinvest are SKM Group (71,25%) and Smart-Holding (23,75%) which jointly run the Company.

METINVEST HOLDING LLC – the holding company of the Metinvest Group