29 January 2014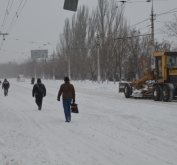 Due to the deteriorating weather metallurgical works increased measures to ensure the continuous work of production departments and transport of works.
"Azovsteel Iron and Steel Works" organized work to overcome the aftereffects of heavy fall of snow. Additional units of snow removal machine moved on the highway of works. The number of persons employed engaging in the maintenance of works infrastructure was increased. Employees working in the street or in the cold provided in free hot meals. Canteens operate around the clock. Works buses go on routes in enhanced mode.
Adverse weather conditions had no effect on primary production. "Azovstal" kept on a planned level the production of Blast-Furnace Shop, BOF Shop and Rolling Mills. Day-and-night duty was organized in the shops. Careful attention is paid to the power system operation, a stable supply of heat carrier and delivery of raw materials to the shops.
"Works has hard prepared since autumn for possible snowfall. We have trained staff, developed a scheme of snow control. And at the moment the situation on the roads at works is stable, "- said General Director of PJSC "Azovstal" Enver Tskitishvili.
In order to create conditions for the safe movement of vehicles on the road and rail routes a complex of measures aimed at timely cleaning of transport "arteries" of "Ilyich Iron & Steel Works" from snow and ice is carried out.
The stable production of steelmaking and blast furnace divisions is maintained despite the fact that some of the staff involved in cleaning of snow and clearing of railway lines, highways and automobile roads.
"Special technique of works used in clearing the central city roads as well as the territory of works. Main office on snow control acts as quickly as possible. Now the primary task is to clear railroad tracks and remove snow on the most important roads of the works, "- said General Director of PJSC "Ilyich Iron and Steel Works" Yuriy Zinchenko.
In connection with the hampered movement on the city highways, many employees of Mariupol metallurgical enterprises were not able to get to work in time.
In this situation, the leadership of "Azovstal Iron and Steel Works" and "Ilyich Iron and Steel Works" decided the payment for labour in this period will be in accordance with the Labour Code of Ukraine for all employees who late for work due to weather conditions and lack of transport.
Also at the request of Mayor of Mariupol, Yuri Hotlubei, 5 vehicles for clearing roads from snow were provided by works of Metinvest Group to help the city services.
For editors:

PJSC "AZOVSTAL IRON & STEEL WORKS" is an up-to-date high-technology enterprise which produces a wide range of steel products such as: slabs, sections and shapes, rails, rail fastenings, square billets, heavy plates, and smelter slag products.

Production capacity of the Enterprise makes it possible to manufacture annually over 5,5 million tons of pig iron, over 6,2 million tons of steel (the target is to achieve 7 million tons of steel per year), over 4,4 million tons of rolled products. Design capacity of rail fastenings manufacture is 285 thousand tons per year and that of steel milling balls manufacture is 170 thousand tons per year.

Metinvest is a vertically integrated mining group of companies, operating the assets in each sector of the production cycle beginning with iron ore and coal mining and coke production up to the manufacture of steel semi-products and finished products, pipes and coils as well as production of other products with high value added. The Group consists of mining and steel works situated in Ukraine, Europe, and the USA and has a chain of sales covering the key world markets. The chief stockholders of Metinvest are SKM Group (71,25%) and Smart-Holding (23,75%) which jointly run the Company.

METINVEST HOLDING LLC – the holding company of the Metinvest Group.