27 December 2013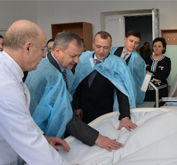 Ilyich Iron and Steel Works of Metinvest Group continue to help Mariupol by investing in social infrastructure of the city. The Works appropriated 1 million and 600 thousand hryvnas for capital overhaul of surgical department of the municipal hospital №1.
The building of surgical department of the Mariupol municipal hospital №1 was built as far back as in the thirties of last century. For the last years the building has become so much dilapidated that it needed a capital overhaul. Central heating and sewage practically didn't work, the windows needed changing, and the walls were crushing. Ilyich Iron and Steel Works of Metinvest Group set to restoring the hospital department acting within the four-side agreement about the social partnership with the city. So on the 24th of December the ceremonial opening took place after the capital overhaul.
The specialists from the repair and improvement shop of MMKI put new windows and door blocks, repaired the walls and the ceilings of the department using a modern technology with laying three layers of stopping fillers on the supporting net. They changed linoleum, glazed tile, plumbing as well as utilities of the building – water-supply, sewage and heating systems.
"We couldn't even suppose that it would be so great. Now everybody is pleasant. Virtually this is a new department," – shared her impressions Svetlana Kostits, the head nurse of the surgical department.
Metallurgists' assistance to the municipal hospital №1 was not limited by building repairing only. For burns department the Works purchased rehabilitation bed "Fluidos" (the first in Mariupol) at the cost of about 700 thousand hryvnas. It is intended for treatment of people with serious burns. The bed allows the patient to feel himself more comfortable during the treatment, its technological innovative features favors quick burn wounds healing.
"It should be said that compared to past years the number of patients in burns department sufficiently decreased. We even shortened the number of the beds to 30. I think it is the result of industrial safety upgrading at the city enterprises. But nevertheless in case of emergency such bed is very essential. We are very grateful to Ilyich Iron and Steel Works and personally to Yuriy Zinchenko that our request was taken into account and such a necessary project for the citizens of Mariupol was implemented," – noted Anatoliy Pogulyai, the head doctor of the municipal hospital № 1.
Yuriy Zinchenko wished good health to the citizens of Mariupol and noted: "Our general assignment is to create comfort conditions for all the patients who are on inpatient treatment. Due to the professionalism of medical workers and wonderful conditions in which the patients will be cured, the process of treatment will run quicker. The repair of surgical department and other sufficient events were carried out this year due to joint purposeful social politics which the Ilyich Iron and Steel Works and Metinvest carry out in close co-operation with the city administration"
For editors:

PJSC "ILYICH IRON AND STEEL WORKS OF MARIUPOL" is one of the largest integrated enterprises in Ukraine. The enterprise produces pipes and flat rolled products of carbon, low-alloy and alloy steels for different applications: hot-rolled plates and sheets intended for manufacturing of pipes for main pipelines, ships, pressure vessels, bridge structures, other steel structures for critical application; hot-rolled plates, sheets and strips including pickled; cold-rolled, including galvanized bands, sheets and strips, including for cold stamping, flooring and others; thick-walled pipes including for oil pipe lines; water- and gas-supply welded thin-walled pipes of circular section and structural pipes of rectangular section; flasks for different compressed gases, including automobile and others.

50 certificates issued by seven International Certification Bodies and Ukraine Certification Centers confirm high quality of steel products of 200 steel grades produced at the enterprise. Quality Management System is functioning at PJSC "Ilyich Iron and Steel Works of Mariupol" developed and certified according to the requirements established in ISO 9001.

Production facilities of the enterprise allow to produce about 6.1 million tons of steel per year, 12 million tons of sinter, more than 5.5 million tons of iron, more than 6.1 million tons of steel including BOF steel – 3.6 million tons, more than 5 million tons of finished rolled products.

METINVEST GROUP is a vertically integrated steel and mining group of companies that manages every link of the value chain, from mining and processing iron ore and coal to making and selling semi-finished and finished steel products. It comprises steel and mining production facilities located in Ukraine, Europe and the US, as well as a sales network covering all key global markets. The Group is structured into two operating divisions, Metallurgical and Mining, and its strategic vision is to become the leading vertically integrated steel producer in Europe, delivering sustainable growth and profitability resilient to business cycles and providing investors with returns above the industry benchmarks. For 9 months ended 30 September 2013, the Group reported revenues of US$9.8 billion and an EBITDA margin of 18%.

The major shareholders of METINVEST B.V. (the holding company of Metinvest Group) are SCM Group (71.25%) and SMART Group (23.75%), which partner in the Company's management.

METINVEST HOLDING LLC is the management company of Metinvest Group.