24 December 2013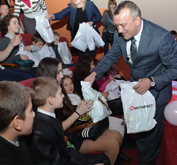 Ilyich Iron and Steel Works has made a "fairytale" present, as children say, to the children of Mariupol on Saint Nicolay's Day. City Centre of Artistic and Aesthetic Creativity for pupils and students actually regenerated after major repairs has flung the doors of assembly hall open meeting young talents.
Metallurgists have spared neither trouble nor expense for this important project. Ilyich Iron and Steel Works invested 2.5 million hryvnas in major repairs of a building and assembly hall of one of the basic cultural centers of Mariupol within the framework of Social partnership program realization with a city community. Thanks to the help of Iron and Steel Works creative talent of youth will develop here in new comfortable conditions.
History of the Center (former Pioneers' Palace) counts more than thirty years and such extensive repair has been made for the first time. Ilyich Iron and Steel Works has undertaken obligations to repair its premises: "clothes" of the stage – curtain and wing flats – became unserviceable long ago, floor and equipment of the creative podium demanded for replacement, windows in the whole building became decrepit. Changes after complete overhaul impressed all its visitors. Artistic-Aesthetic Creativity Center welcomes its visitors with renewed face, internal premises look in a different way too.
"Today many parents of our pupils saw reconstructed assembly hall for the first time, - shared his impressions Gennadiy Vikatto, Director of the City Centre of Artistic-Aethetic Creativity for young pupils and students, on the day of opening ceremony. During repair activities, we have kept out all visitors. They saw that the building was in the process of repair, but the stage and its decoration remained a surprise. It was pleasant that we could amaze everybody. The faces showed this!"
All repair activities have been realized within a tight schedule. In June Ilyich Iron and Steel Works held a tender for repair of the building and assembly hall of the Center. During this period 500 meters square of windows were replaced. Main volume of works took place in the assembly hall. New wooden floor was boarded on the stage, 300 comfortable arm-chairs were installed in the auditory area, stage curtain and wing flats were renewed, new systems of accompanying light and sound were mounted. Curtain lifting mechanism, which was inactive during 15 years, is restored.
Offering congratulations upon opening ceremony of the Center Yuriy Zinchenko, General Director of Ilyich Iron and Steel Works, emphasized that Mariupol is not only a metallurgical, engineering and port city, but it is also city of talented youth, of child's creative stream. And our citizens can be proud of it.
"Actually we tried to do our best; we put our heart to achieve in making such a wonderful ferial gift for all children and adults living in Mariupol. I hope that City Center of Artistic and Aesthetic Creativity for pupils and students will become one of the most preferable places of recreation and development of talents for our children. I'd like to highlight that today our dialog with city authorities is well established. We worked up a number of projects aiming the solution of issues having high importance for Mariupol and we successfully realize them. I'm sure that next year our collaboration will continue, - said Yuriy Zinchenko. I wish that there are more positive emotions, joy and smiles on the faces of children and adults!"
The Mayor Yuriy Khotlubey emphasized in his welcome speech at the festivities that this year within the framework of Social partnership program due to Metinvest many objects were opened, which are important for city inhabitants.
The most active participants in the center reconstruction were rewarded for their professional skills and conscientious work with letters of appreciation from the Mayor and General Director of Ilyich Iron & Steel Works. And all children present at the formal opening got sweets from the Mayor and soft toys from Yuriy Zinchenko, General Director of Ilyich Iron & Steel Works.
"By assisting in our young Mariupol talents' skills development, creating the most comfortable environment for them we take care of our children's future. This is a part of large socially important work which is regularly carried out by all Metinvest Group companies in cities of their presence. Balanced development of the generation growing up is a basis for successful future of our city and, as a result, our long-term contribution into our country's development," emphasized Yuriy Zinchenko, General Director of Ilyich Iron & Steel Works.
For editors:

PJSC "ILYICH IRON AND STEEL WORKS OF MARIUPOL" is one of the largest integrated enterprises in Ukraine. The enterprise produces pipes and flat rolled products of carbon, low-alloy and alloy steels for different applications: hot-rolled plates and sheets intended for manufacturing of pipes for main pipelines, ships, pressure vessels, bridge structures, other steel structures for critical application; hot-rolled plates, sheets and strips including pickled; cold-rolled, including galvanized bands, sheets and strips, including for cold stamping, flooring and others; thick-walled pipes including for oil pipe lines; water- and gas-supply welded thin-walled pipes of circular section and structural pipes of rectangular section; flasks for different compressed gases, including automobile and others.

50 certificates issued by seven International Certification Bodies and Ukraine Certification Centers confirm high quality of steel products of 200 steel grades produced at the enterprise. Quality Management System is functioning at PJSC "Ilyich Iron and Steel Works of Mariupol" developed and certified according to the requirements established in ISO 9001.

Production facilities of the enterprise allow to produce about 6.1 million tons of steel per year, 12 million tons of sinter, more than 5.5 million tons of iron, more than 6.1 million tons of steel including BOF steel – 3.6 million tons, more than 5 million tons of finished rolled products.

METINVEST GROUP is a vertically integrated steel and mining group of companies that manages every link of the value chain, from mining and processing iron ore and coal to making and selling semi-finished and finished steel products. It comprises steel and mining production facilities located in Ukraine, Europe and the US, as well as a sales network covering all key global markets. The Group is structured into two operating divisions, Metallurgical and Mining, and its strategic vision is to become the leading vertically integrated steel producer in Europe, delivering sustainable growth and profitability resilient to business cycles and providing investors with returns above the industry benchmarks. For 9 months ended 30 September 2013, the Group reported revenues of US$9.8 billion and an EBITDA margin of 18%.

The major shareholders of METINVEST B.V. (the holding company of Metinvest Group) are SCM Group (71.25%) and SMART Group (23.75%), which partner in the Company's management.

METINVEST HOLDING LLC is the management company of Metinvest Group.