18 December 2013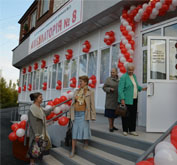 Metinvest Group increased funding for projects on improvement of medical infrastructure in Mariupol by 75% compared with a year earlier. In 2013, the company's investments into public health services rose to 5 mln. 120 thous. UAH.
In Mariupol perinatal center six months ago there were old frames and windows, which remembered those people who were born in the hospital thirty – forty years ago. The windows were tinted and jambs were whitewashed. But wind blew from the interstices all the same and the paint was taken no longer and chipped. The advanced equipment for children nursing could not operate due to the old and low-power electric wiring.
"Ilyich Iron and Steel Works of Mariupol" allocated 150 thous. UAH to the perinatal center. The money helped to install plastic window blocks in the surgery and replace wiring in the neonatal intensive care unit. Thanks to the up-to-date equipment in the center almost thirty premature infants and babies born with pathology were nursed. All children have been already dismissed from the hospital or sent to the second stage of treatment.
With the assistance of "AZOVSTAL IRON & STEEL WORKS" it was possible to restore one more object of the municipal hospital No. 4. In the therapeutic building face and floors were repaired, walls were re-plastered and painted, plastic windows installed and all communications (electric network, sewerage, heating and water supply) were replaced.
Surgical building of the municipal hospital No. 1 is still under overhaul. The installation of new windows and doors has been completed. The employees of "Ilyich Iron and Steel Works of Mariupol" using new technology tidy walls and ceilings of the building. The activities on engineering communication replacement are in progress. For the first time in recent years, the surgery building will be warm even in the cold weather.
Mrs. Marina Pribalova, nurse of surgical department of the municipal hospital No. 1:
- In winter we were not able to work, wind blew strongly from the interstices. In summer, consequently, it was hot and we could not open windows because there were no screens. Now it looks like a miracle after repairs. We can open and close windows, there is no draught and there is a wide window sill. All is very well!
High-quality medical care became available for 10.000 of Mariupol citizens with establishment of new outpatient clinic at Kirov residential area. The premises of outpatient clinic were completely renovated. The old structures were dismantled, electric wiring, hygiene equipment and engineering networks were replaced. In the offices new windows and doors were installed, floors were covered, walls were insulated and surroundings were landscaped. "Ilyich Iron and Steel Works of Mariupol" presented air conditioners to the medical establishment in order to provide comfort conditions to the patients and employees.
"AZOVSTAL IRON & STEEL WORKS" acquired modern diagnostic equipment for the first clinic of the municipal hospital No. 4. This year, more than 30 units of new medical equipment, including unique Italian ultrasound investigation machine were transferred to the clinic. It is designed to examine blood vessels, heart, abdomen, kidney, thyroid and mammary glands.
Mrs. Irina Malikova, doctor of functional diagnostics of the municipal hospital No. 4:
- Earlier we had to send many patients to the private medical centers or in Donetsk, where there was such equipment. Now, the new equipment will allow us in-house examining, absolutely free of charge for "AZOVSTAL IRON & STEEL WORKS" employees.
In the near future arrival of new equipment is expected to the municipal hospital No. 1. To treat people with serious burns "Ilyich Iron and Steel Works of Mariupol" bought a burn-treating rehabilitation bed "Fluidos", at the cost of more than UAH 800 thous.
Mr. Yuri Zinchenko, Director General of PJSC "Ilyich Iron and Steel Works of Mariupol":
- Identifying social projects with highest priority for implementation, we understood a clear position of the city in terms of medicine. A number of health problems were very acute and without our support they could hardly be settled in the foreseeable future. We will not rest on our laurels and will continue to invest in the health of Mariupol citizens.
Mr. Enver Tskitishvili, Director General of PJSC "AZOVSTAL IRON & STEEL WORKS":
- Assistance to medicine sphere became a heart-warming tradition for the enterprise a long time ago. Every year we invest millions UAH in order citizens could receive modern diagnostics and treatment. We help municipal authorities to develop health system in Mariupol. With joint efforts, both of the city and the business, this process advances faster and more efficiently.
For editors:

PJSC "AZOVSTAL IRON & STEEL WORKS" is a modern high-technology enterprise manufacturing wide range of steel products: slabs, bars, shapes, railway rails, rail fasteners, square billets, plates and products of metallurgical slag.

Production capacities of the enterprise allow to produce annually over 5.5 mln. t of iron, over 6.2 mln. t of steel (aim is to achieve 7 mln.t of steel per year) and over 4.4 mln. t of rolled products. Design capacities for rail fasteners production is 285 thous. t per year, grinding balls 170 thous. t per year.

PJSC "ILYICH IRON AND STEEL WORKS OF MARIUPOL" is one of the largest integrated enterprises in Ukraine. The enterprise produces pipes and flat rolled products of carbon, low-alloy and alloy steels for different applications: hot-rolled plates and sheets intended for manufacturing of pipes for main pipelines, ships, pressure vessels, bridge structures, other steel structures for critical application; hot-rolled plates, sheets and strips including pickled; cold-rolled, including galvanized bands, sheets and strips, including for cold stamping, flooring and others; thick-walled pipes including for oil pipe lines; water- and gas-supply welded thin-walled pipes of circular section and structural pipes of rectangular section; flasks for different compressed gases, including automobile and others.

50 certificates issued by seven International Certification Bodies and Ukraine Certification Centers confirm high quality of steel products of 200 steel grades produced at the enterprise. Quality Management System is functioning at PJSC "Ilyich Iron and Steel Works of Mariupol" developed and certified according to the requirements established in ISO 9001.

Production facilities of the enterprise allow to produce about 6.1 million tons of steel per year, 12 million tons of sinter, more than 5.5 million tons of iron, more than 6.1 million tons of steel including BOF steel – 3.6 million tons, more than 5 million tons of finished rolled products.

Metinvest is a vertically integrated mining and metallurgical group of companies that manages assets in each segment of production chain, from extraction of iron ore raw materials and coal, as well as coke production up to manufacture of steel semi-finished and finished products, pipes and coils and also manufacture of other high-value-added products. The Group incorporates mining and metallurgical enterprises located in Ukraine, Europe and USA and has sales network covering all global key markets. The key shareholders of Metinvest are SCM Group (71.25%) and Smart Holding (23.75%) that manage the Company collaboratively.

"METINVEST HOLDING" LLC is the managing company of Metinvest Group.