28 November 2013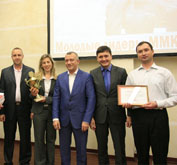 Metinvest Group's Ilyich Iron and Steel Works of Mariupol hosted the final defence of projects prepared by participants of its Young Leaders corporate program. The main objective of the program is to identify potential managers among the plant's promising young leaders.
The Young Leaders program facilitated learning opportunities, training, and seminars for participants. The program's 100 young specialists were guided by management mentors in areas such enterprise development strategy, logistics, personnel motivation, improvements in repair quality in key shops, and reductions in power consumption and metal rejects in rolling shops.
The evaluation commission for the projects consisted of Natalia Strelkova, HR and Social Policy Director of Metinvest Group; Alexander Levchenko, Engineering Director of Ilyich Iron and Steel Works of Mariupol; Vadim Boichenko, HR and Social Issues Director; Konstantin Pismarev, Technology and Quality Director; and Yuriy Zinchenko, General Director, who headed the commission.
Projects involved reducing materials consumption in the production of rolled products, improving logistics, upgrading the operational efficiency of equipment, and increasing weld metal resistance during rolling. One of the teams presented a 10-year development strategy for the plant, while another developed a personnel motivation system.
The winning team, who won the Young Leaders program cup and a bonus of UAH 5,000, was led by Natalia Predkova. Her team presented a project to reduce maintenance costs in the chief power engineer's and chief mechanical engineer's shops. Other top projects were recognized in 8 categories, including for best visualization, best speech, creativity, and applicability to the company. The best projects will be further developed and implemented at the enterprise.
"Participation in the Young Leaders program was good motivation for many workers of our company to demonstrate their own initiative, develop and confidently prove their professionalism," said Yuriy Zinchenko, Ilyich Iron and Steel Works' General Director. "Opening doors for promising young specialists is one of the priorities of the management of the plant and an important aspect of Metinvest's personnel policy."
For editors:

PJSC «Ilyich Iron and Steel Works of Mariupol» is one of the greatest enterprises in Ukraine with full metallurgical cycle. The Works produces pipes and flat rolled products of carbon, low-alloy and alloy steels for different applications: hot-rolled plates and sheets intended for the production of pipes for main pipelines, ships, pressure vessels, bridge constructions, other metal constructions for critical application; hot-rolled plates, sheets and strips including pickled; cold-rolled, including galvanized, bands, sheets and strips, including for cold stamping, flooring and others; thick-walled pipes including for oil pipe lines; water- and gas-supply welded thin-walled pipes of circular section and structural pipes of rectangular section; flasks for different compressed gases, including automobile and others.

50 certificates issued by seven International Certification Bodies and Ukraine Certification Centers confirm the high quality of the metal products of 200 steel grades produced at the Works. Quality Management System functions at the PJSC «Ilyich Iron and Steel Works of Mariupol» developed and certified according to the requirements of ISO 9001.

Production facilities of the Works allow to produce about 6,1 million tons of steel per year, 12 million tons of agglomerate, more than 5,5 million tons of pig-iron, more than 6,1 million tons of steel including converter steel – 3,6 million tons, more than 5 million tons of finished rolled products.

METINVEST is an international vertical-integrated mining-and-metallurgical Group of companies, which runs assets in every link of production chain from iron-ore and coal mining till semi-finished and finished metal products manufacture. The structure of the Group comprises mining and metallurgical enterprises in Ukraine, Europe and USA, and sales network covering the key world markets. METINVEST GROUP consists of Metallurgical and Mining Divisions. According to the strategical vision of the Group its aim is to become lead European vertical-integrated steel producer with stable ratio of growth and cost effectiveness in spite of market cyclicity, and to ensure investment return higher than industrial standards. In the first half of 2012 the Group has received US$6,74 milliards of sale proceeds, cost effectiveness by EBITDA was 16%.

METINVEST HOLDING LLC is the managing company of METINVEST GROUP.

The main shareholders of METINVEST B.V. Company (holding company of METINVEST GROUP) are SKM GROUP (71,25%) and SMART-HOLDING (23,75%), which control Company at partnership relations.