17 October 2013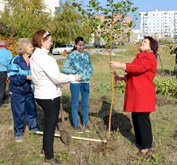 Mariupol residents turned a neglected area along 9 May Street into a birch tree alley, thanks to a UAH 75,000 grant from Metinvest Group.
The project was funded through Metinvest's "We Improve the City" program, wherein residents initiate projects and compete for grant funding.
"The 'We Improve the City' competition is an opportunity for everyone to be involved in life in Mariupol, and to implement ideas and improve infrastructure," said Sergey Magera, head of the municipal development department of the PR and Municipal Development Department of Metinvest Holding, LLC in Mariupol. "Residents of 9 May Street were able to use the opportunity and received Metinvest's support. The neglected area will become filled with birch trees; there will be flower beds and an excellent space for children to play."
The project will be implemented in two phases: the first phase, which was just completed, included cleaning up litter and planting birch trees and rose bushes; the second phase will involve the construction of a special path next to the birch tree alley where children will be able to bicycle and skateboard.
For editors:

ПАО «МЕТАЛЛУРГИЧЕСКИЙ КОМБИНАТ «АЗОВСТАЛЬ» – это современное высокотехнологичное предприятие, производящее широкий спектр металлопродукции: слябы, сортовой и фасонный прокат, рельсы железнодорожные, рельсовые скрепления, квадратную заготовку, толстый лист, продукцию из металлургических шлаков.

Производственные мощности Комбината позволяют производить в год более 5,5 млн. тонн чугуна, более 6,2 млн. тонн стали (цель – достигнуть 7 млн. тонн стали в год), более 4,4 млн. тонн проката. Проектные мощности по производству рельсовых скреплений составляют 285 тыс. тонн в год, помольных шаров – 170 тыс. тонн в год.

Метинвест является вертикально интегрированной горнодобывающей группой компаний, управляющей активами в каждом звене производственной цепочки от добычи ЖРС и угля и производства кокса до выпуска полуфабрикатов и конечной продукции из стали, трубопроката и рулонов, а также производства другой продукции с высокой добавленной стоимостью. Группа состоит из добывающих и металлургических предприятий, находящихся в Украине, Европе и США и имеет сеть продаж с охватом всех ключевых мировых рынков. Основными акционерами Метинвест являются Группа СКМ (71,25%) и Смарт-Холдинг (23,75%) совместно управляющие Компанией.

ООО «МЕТИНВЕСТ ХОЛДИНГ» - управляющая компания Группы Метинвест.