11 October 2013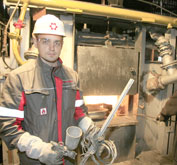 Metinvest Group's Ilyich Iron & Steel Works of Mariupol workers increased the effectiveness of raw materials used for open-hearth smelting, resulting in annual savings of UAH 500,000.
Open-hearth smelting uses ferroalloys and other pure metals as oxidizers and alloy additives, including granulated aluminum. In the past, open-hearth workers used only secondary aluminum ingots to make granulated aluminum, the production of which was expensive.
Plant workers themselves initiated the idea of replacing the use of instead secondary aluminum ingots with aluminum scrap, which is generated by many subdivisions of the enterprise. Today, one heat requires 25-30% aluminum scrap. In the second quarter of 2013, savings as a result of the initiative amounted to UAH 130,000.
"Reducing the cost of production by using secondary resources increases our competitiveness and promotes metal products on the market," said Yuriy Zinchenko, Ilyich Iron & Steel Works of Mariupol's general director. "We engage internal resources and support the initiatives of plant workers to increase production efficiency."
For editors:

PJSC «Ilyich Iron and Steel Works of Mariupol» is one of the greatest enterprises in Ukraine with full metallurgical cycle. The Works produces pipes and flat rolled products of carbon, low-alloy and alloy steels for different applications: hot-rolled plates and sheets intended for the production of pipes for main pipelines, ships, pressure vessels, bridge constructions, other metal constructions for critical application; hot-rolled plates, sheets and strips including pickled; cold-rolled, including galvanized, bands, sheets and strips, including for cold stamping, flooring and others; thick-walled pipes including for oil pipe lines; water- and gas-supply welded thin-walled pipes of circular section and structural pipes of rectangular section; flasks for different compressed gases, including automobile and others.

50 certificates issued by seven International Certification Bodies and Ukraine Certification Centers confirm the high quality of the metal products of 200 steel grades produced at the Works. Quality Management System functions at the PJSC «Ilyich Iron and Steel Works of Mariupol» developed and certified according to the requirements of ISO 9001.

Production facilities of the Works allow to produce about 6,1 million tons of steel per year, 12 million tons of agglomerate, more than 5,5 million tons of pig-iron, more than 6,1 million tons of steel including converter steel – 3,6 million tons, more than 5 million tons of finished rolled products.

METINVEST is an international vertical-integrated mining-and-metallurgical Group of companies, which runs assets in every link of production chain from iron-ore and coal mining till semi-finished and finished metal products manufacture. The structure of the Group comprises mining and metallurgical enterprises in Ukraine, Europe and USA, and sales network covering the key world markets. METINVEST GROUP consists of Metallurgical and Mining Divisions. According to the strategical vision of the Group its aim is to become lead European vertical-integrated steel producer with stable ratio of growth and cost effectiveness in spite of market cyclicity, and to ensure investment return higher than industrial standards. In the first half of 2012 the Group has received US$6,74 milliards of sale proceeds, cost effectiveness by EBITDA was 16%.

METINVEST HOLDING LLC is the managing company of METINVEST GROUP.

The main shareholders of METINVEST B.V. Company (holding company of METINVEST GROUP) are SKM GROUP (71,25%) and SMART-HOLDING (23,75%), which control Company at partnership relations.