20 September 2013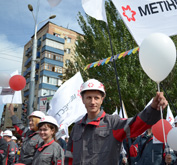 On September, 14 Mariupol celebrated the 235th anniversary of its foundation. The city entrusted the honorary right to open the Parade of Professions to employees of Ilyich and AZOVSTAL Iron and Steel Works of Metinvest Group.
Representatives of the two labour collectives marched along the central avenue in one column highlighting their common desire for labour achievements.

The Parade of Professions was joined by the best workers of the city's flagship enterprises, winners of labour competitions, young specialists, labour veterans, representatives of all the shops and departments of steelmakers' many-thousand-collective united by Metinvest Group.

"The parade held to celebrate the anniversary of Mariupol has united the labour collectives representing all the professions. Steelmakers, harbour employees, mechanical engineers – we are all citizens of one city with proud history and good traditions. The happiness and well-being of every family is a matter of importance to all of us. Enhancing the prestige of the profession by our work we enhance the prestige of Mariupol and create reliable future for the new generations", – said Director General of PJSC "Ilyich Iron and Steel Works of Mariupol" Yuriy Zinchenko.

"We have common future, so we have common objectives – development of the enterprise, improvement of the city. The steelmakers contribute with their work to the solution of production tasks. As a result, thanks to the participation of each employee the steelworks are able to provide regular investments in projects socially important for Mariupol, thus improving the life of all its citizens," – emphasized Director General of PJSC "AZOVSTAL IRON & STEEL WORKS" Enver Tskitishvili.
For editors:

PJSC "AZOVSTAL IRON & STEEL WORKS" is an up-to-date high-technology enterprise which produces a wide range of steel products such as: slabs, sections and shapes, rails, rail fastenings, square billets, heavy plates, and smelter slag products.

Production capacity of the Enterprise makes it possible to manufacture annually over 5,5 million tons of pig iron, over 6,2 million tons of steel (the target is to achieve 7 million tons of steel per year), over 4,4 million tons of rolled products. Design capacity of rail fastenings manufacture is 285 thousand tons per year and that of steel milling balls manufacture is 170 thousand tons per year.

Metinvest is a vertically integrated mining group of companies, operating the assets in each sector of the production cycle beginning with iron ore and coal mining and coke production up to the manufacture of steel semi-products and finished products, pipes and coils as well as production of other products with high value added. The Group consists of mining and steel works situated in Ukraine, Europe, and the USA and has a chain of sales covering the key world markets. The chief stockholders of Metinvest are SKM Group (71,25%) and Smart-Holding (23,75%) which jointly run the Company.

METINVEST HOLDING LLC – the holding company of the Metinvest Group