10 September 2013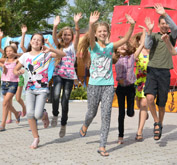 Mariupol metallurgical enterprises, "Ilyich Iron and Steel Works of Mariupol" and "AZOVSTAL IRON & STEEL WORKS" (Metinvest Group), reviewed the first results of the summer health improvement season 2013. More than 24 thousand employees of enterprises and their families took a rest at the recreation houses and leisure bases. The enterprises allocated over 54 mln UAH for health improvement of the employees.
This season, employees of the enterprises were provided with recreational places to stay at nine recreation houses located at the resort zones and on the Azov cost, including "Metallurg", "Smena", "Volna", "Nadezhda", "Solnechny Bereg". The shop recreation centers "Aleksandria", "Vertical" and "Azovye" worked according to their design capacity, where meals provision service had been restored for the vacationers.
Sanatoriums, such as "Alyye Parusa", "Raduzhny", "Solnechny" and "Severny", opened up opportunities for unforgettable summer holidays for the employees' children. They hosted more than 5 thousand young campers over this season. The children received the required complex of health-promoting activities and fascinating cultural leisure. Hobby clubs, theatre schools and students activity centers worked, as well as archaeological expeditions and diverse festivals conducted.
This year, young metallurgists actively engaged in the educational procedure at children sanatoriums. Entertaining and educational program "Day with Metinvest" conducted at each shift within the framework of the corporate program "Territory of Childhood". During quests and other game programs children were able to learn a lot of new and interesting things about profession of the metallurgist, operation of the enterprises and company, in which their parents are working.
Yuri Zinchenko, Director General of "Ilyich Iron and Steel Works of Mariupol" noted: "Creating a sustainable corporate culture is a hallmark of strong and solidary team. Developing youth movement and educating the rising generation, we create our prosperous future. We will continue to provide active support for all socially-oriented projects, fulfilling our obligations to the employees".
Enver Tskitishvili, Director General of "AZOVSTAL IRON & STEEL WORKS" emphasized: "Each employee contributes to the development of the steel industry of the country, strengthening of the company and his hard work deserves a comfortable rest with maximum health benefits. Improvement of socially significant facilities is among the priority activity trends of Metinvest assets".
For editors:

PJSC «Ilyich Iron and Steel Works of Mariupol» is one of the greatest enterprises in Ukraine with full metallurgical cycle. The Works produces pipes and flat rolled products of carbon, low-alloy and alloy steels for different applications: hot-rolled plates and sheets intended for the production of pipes for main pipelines, ships, pressure vessels, bridge constructions, other metal constructions for critical application; hot-rolled plates, sheets and strips including pickled; cold-rolled, including galvanized, bands, sheets and strips, including for cold stamping, flooring and others; thick-walled pipes including for oil pipe lines; water- and gas-supply welded thin-walled pipes of circular section and structural pipes of rectangular section; flasks for different compressed gases, including automobile and others.

50 certificates issued by seven International Certification Bodies and Ukraine Certification Centers confirm the high quality of the metal products of 200 steel grades produced at the Works. Quality Management System functions at the PJSC «Ilyich Iron and Steel Works of Mariupol» developed and certified according to the requirements of ISO 9001.
Production facilities of the Works allow to produce about 6,1 million tons of steel per year, 12 million tons of agglomerate, more than 5,5 million tons of pig-iron, more than 6,1 million tons of steel including converter steel – 3,6 million tons, more than 5 million tons of finished rolled products.

METINVEST is an international vertical-integrated mining-and-metallurgical Group of companies, which runs assets in every link of production chain from iron-ore and coal mining till semi-finished and finished metal products manufacture. The structure of the Group comprises mining and metallurgical enterprises in Ukraine, Europe and USA, and sales network covering the key world markets. METINVEST GROUP consists of Metallurgical and Mining Divisions. According to the strategical vision of the Group its aim is to become lead European vertical-integrated steel producer with stable ratio of growth and cost effectiveness in spite of market cyclicity, and to ensure investment return higher than industrial standards. In the first half of 2012 the Group has received US$6,74 milliards of sale proceeds, cost effectiveness by EBITDA was 16%.

METINVEST HOLDING LLC is the managing company of METINVEST GROUP.
The main shareholders of METINVEST B.V. Company (holding company of METINVEST GROUP) are SKM GROUP (71,25%) and SMART-HOLDING (23,75%), which control Company at partnership relations.