16 August 2013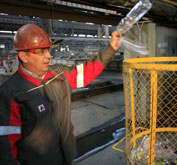 At PJSC «Ilyich Iron and Steel Works of Mariupol» which is inside Metinvest Group a centralized polyethylene bottle collection system has began its operation. The initiators of the project on the introduction at the Works of the best practice on separate collection of hard consumer waste and increase of ecological culture were the workers of the Works.
The first example was shown by the workers of Plate Rolling Mill 3000 – a trial project on empty plastic bottle collection, in which the workers get drinking water, has been started. For each worker there are at least one 1,5-liter bottle of water every day. Empty bottles have not only accumulated, but also endangered environment. Scientists have proved the danger of plastic for ecology – its full period of decomposition is 300 years.
Since August, the project on plastic bottle collection is realized Works-wide. At PJSC «Ilyich Iron and Steel Works of Mariupol» a centralized receiving point for plastic bottles has been organized where bottle plastic preliminary collected in all shops and departments is weighed and shipped. The Works has made a contract with a specialized organization «Green Company», which will remove and utilize polyethylene tare.
«Actions taken touch three aspects: ecological, economical and aesthetic. The Works provides the workers with drinking water of improved quality. In hot weather, the workers are given about 1,000 bottles of water per day. Selling them as a utility waste, we not only solve in part the question of environmental protection, but also get money for the utilized plastic bottles. Not a lot of money, but this is our contribution to the Work`s economy, - underlined Aleksandr Smotrov, the Deputy of Chief Engineer on Environmental Protection of PJSC «Ilyich Iron and Steel Works of Mariupol».
For editors:

PJSC «Ilyich Iron and Steel Works of Mariupol» is one of the greatest enterprises in Ukraine with full metallurgical cycle. The Works produces pipes and flat rolled products of carbon, low-alloy and alloy steels for different applications: hot-rolled plates and sheets intended for the production of pipes for main pipelines, ships, pressure vessels, bridge constructions, other metal constructions for critical application; hot-rolled plates, sheets and strips including pickled; cold-rolled, including galvanized, bands, sheets and strips, including for cold stamping, flooring and others; thick-walled pipes including for oil pipe lines; water- and gas-supply welded thin-walled pipes of circular section and structural pipes of rectangular section; flasks for different compressed gases, including automobile and others.

50 certificates issued by seven International Certification Bodies and Ukraine Certification Centers confirm the high quality of the metal products of 200 steel grades produced at the Works. Quality Management System functions at the PJSC «Ilyich Iron and Steel Works of Mariupol» developed and certified according to the requirements of ISO 9001.

Production facilities of the Works allow to produce about 6,1 million tons of steel per year, 12 million tons of agglomerate, more than 5,5 million tons of pig-iron, more than 6,1 million tons of steel including converter steel – 3,6 million tons, more than 5 million tons of finished rolled products.

METINVEST is an international vertical-integrated mining-and-metallurgical Group of companies, which runs assets in every link of production chain from iron-ore and coal mining till semi-finished and finished metal products manufacture. The structure of the Group comprises mining and metallurgical enterprises in Ukraine, Europe and USA, and sales network covering the key world markets. METINVEST GROUP consists of Metallurgical and Mining Divisions. According to the strategical vision of the Group its aim is to become lead European vertical-integrated steel producer with stable ratio of growth and cost effectiveness in spite of market cyclicity, and to ensure investment return higher than industrial standards. In the first half of 2012 the Group has received US$6,74 milliards of sale proceeds, cost effectiveness by EBITDA was 16%.

METINVEST HOLDING LLC is the managing company of METINVEST GROUP.

The main shareholders of METINVEST B.V. Company (holding company of METINVEST GROUP) are SKM GROUP (71,25%) and SMART-HOLDING (23,75%), which control Company at partnership relations.