29 January 2013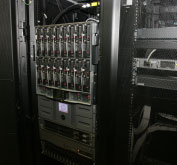 Within the framework of realization of an investment program concerning Information Technologies, the second stage of the project for creation of up-to-date data processing center is finished at PJSC "Ilyich Iron & Steel Works", an affiliate of "Metinvest Group". Project cost averaged UAH 5 millions. Inauguration took place on 29 of January.
Commissioning of this up-to-date infrastructure complex allowed consolidating information resources of the enterprise and favored optimization of maintenance and further IT infrastructure development costs.
Data processing center is equipped with techniques by leading producers all over the World creating all the necessary conditions for reliable functioning. A modern complex of engineering facilities ensures trouble-free operation of servers — reserve electric supply, systems for maintenance of required indoor climate, access control, intrusion protection and firefighting systems. Infrastructure services of the data processing center are commissioned and accessible for users of the enterprise.
Currently further server equipment centralization works are taking place. Measures for improvement of reliability of no-brake power supply to the data processing center and perfection of access control system to the center rooms are scheduled in 2013 — 2014.
«At present information systems become strategic resources for enterprises. So, the requirements for their functioning are numerous. Creation of a single data processing center for centralized storage of huge volumes of information was the optimal solution. Due to the creation of the data processing center we shall manage, as much as possible, to prevent the risks linked with information systems functioning failure and to ensure reliable protection of the data and operation stability of our enterprise» PJSC «Ilyich Iron & Steel Works» General Director Yuriy Zinchenko emphasized.