24 January 2013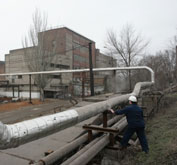 Within the bounds of program of production process renovation and technical upgrading a new steam pipeline for Cold Rolling Shop was put into operation at Ilyich Iron and Steel Works of Metinvest Group. Volume of investments into the construction of new technological unit comprised 4 mln. UAH.
The technicians of Planning and Design Department, Chief Mechanic and Chief Power Man specialized teams, and contractors took part in the project elaboration and implementation.
The steam pipeline is employed for supporting process-dependant parameters of vacuum-crystallizing units. New equipment provides stable level of steam pressure necessary for the vitriolic unit productive work and allows to implement non-waste technologies of iron vitriol extraction from the waste sulfuric acid solution.
«Steam pipeline is one of the important objects of engineering infrastructure of Cold Rolling Shop», says Engineering Director Alexander Levchenko, " Its utilization will allow to increase the pickling solutions activity in the Pickling Department, and, first of all, to improve the quality of galvanized rolled products along with downsizing their prime cost».