3 December 2012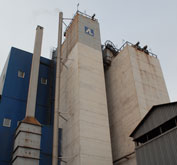 PJSC "Ilyich Iron and Steel Works" has finished the renewal of the air separation unit КААр-60. The cost of the renewal is 4, 8 million ghrivnas.
In addition heat exchangers, cryopumps, booster compressors, nitrogen-water cooling system, electric equipment and the equipment of the КИПиА have been repaired. Also the repair of the cold valve block has been done.
The specialists of the combinat and contractor organizations eliminated sufficient remarks, made maintenance works, brought the productivity of the unit up to passport indicators – till 60 thousand cubes . m/hour of oxygen and from 40 up to 70 thousand .cubes.m/hour of nitrogen. As a result of the renewal it is planned to get the maximum possible quantity of liquid products of the air separation– nitrogen, oxygen, argon, and also rare gases (kriptonoksenon mixture and neon helium concentrate).
«The renewal of the КААр-60 will allow to get the basic aims of the combinat by the products of the required quality, that will contribute to the timely accomplishment of the production targets by blast furnace workers and steel workers », - marked Vladislav Klimanchyk, the first deputy of the general director – the main engineer of the enterprise.