16 October 2012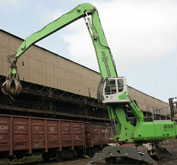 Within an investment project « Organization of an acceptance system and stocking of the metal scrap at the PJSC «ILYICH IRON & STEEL WORKS» a building of the place for acceptance and cull of the incoming metal has been accomplished in the drop-hammer plant. A railway access has been placed; overpasses and the systems of mast lighting for working at night time have been mounted. A home town has been equipped with necessary facilities. It consists of house without base with all necessary communications.
The main part of the project is the new special equipment - clam-type loaders for loading metal scrap Sennebogen and one Terex Fuchs. The project has provided the organization of five loading places, being constructed by the plant.
During the realization of the project more than 3 million dollars has been spent.
«The main aim of the works –is the optimization of transport logistics, - underlined Vladymir Boyko, the general director of PJSC «ILYICH IRON & STEEL WORKS». The introduction of the investment project will allow the combinat to spare working time, electricity and diesel oil, to shorten the idle-time of the carriages, to improve the working conditions. Besides, the metal acceptance commission being at the overpass will solve the task promptly, whether send the carriage with raw material to the production or it is necessary to send it to the stock for further handling».