2 October 2012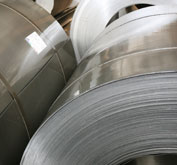 At the PJSC «ILYICH IRON & STEEL WORKS» that is inside the group of Metinvest, the developments of home scientists and industrial workers allowed sufficiently to increase the quality of refining of the manufactured products in the cold rolling mill.
Thanks to recently developed and assembled special collectors that allow performing a treating of the hot-rolled killed strip by water-air mixture without changing of the technological process of the continuous pickling unit. The surface of the strip has become purer on 25%.
Before introducing modernized collectors the treatment of the strip was performed only by water.
The assembling of the collectors and testing their operability on all of the set modes of the operation of the continuous pickling unit was made by the help of the combinat`s specialists.
«We may say with confidence, that the offer of our specialists is especially needed during the crisis – underlined Vladimir Boyko, the general director of the PJSC «ILYICH IRON & STEEL WORKS». – It is enough to compare the cost of the produced collectors – it has made up some tens of thousands ghrivnas – with the cost of similar equipment produced abroad and it made up several million ghrivnas.