20 September 2012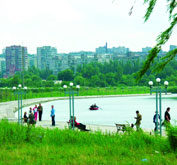 Ilyich Iron and Steel Works of Metinvest Group signed a contract of the feasibility study development with the company Siemens Ukraine- an affiliate of concern Siemens for the new sewage disposal plants at the industrial discharge areas №1 and 2 on the river Kalchik . Siemens is a proven partner of Ukrainian metallurgists and the company suggests a number of innovative techniques which allow to make the production of still mill products ecological and waste-free. This time the developers of world-wide reputation will present to the Works a complex solution of the industrial sewage treatment and discharge into the pools. Feasibility study investments comprised about 300 000 USA $.
"The project implies the achievement of key results –said Alexander Smotrov. Deputy Head of the Works on Environmental Protection. At first its implementation will allow to provide the treatment of industrial sewage in the Kalchik river according to the norms of environmental legislation and even below the level permissible in Ukraine. At second the Works will be able to reduce significantly the power inputs as at the industrial sewage № 2 into the system of water recycling each hour 800 m3 of treated water will be returned .
An important task is set before us – to make the discharged water more pure than the water taken from the river –underlined Sergey Matvienkov, Deputy Head of Director General –Chief Engineer of the Works. Further development of the partnership between Metinvest Group and Siemens-Ukraine, I am sure will allow us to solve the other tasks of environmental technogeneous load decrease successfully.