20 September 2012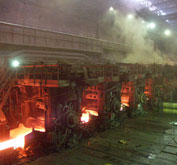 In sheet-rolling mill "1700" of PJSC «ILYICH IRON & STEEL WORKS» inside the group of Metivest a large-scale 47 hour basic repair of the heating furnace № 5 has been finished. The amount of investments for the planned renewing of equipment has put up 13 million grivnas.
During the capital repair a firebrick lining was fully changed, metalware was renewed, skid rails, horizontal-tube coils and the contours of the technological unit were reconstructed. Besides a repair of the baffle of the furnace and the concave crown was done. A replacement of gas sealing armature and burners has been finished. And also an assembly and disassembling of candle piping was performed.
The renewing o f the technological unit was done with the help of the rebuild service of PJSC «ILYICH IRON & STEEL WORKS». The biggest amount of work were done by the specialists from the shops: « blast furnace repair», the repair of metallurgical furnaces, CY « Energy repair» -1.
A timely made basic repair of the heating furnace №5 has allowed us to shorten the time of heating of metal and to improve the quality of the feedstock by the help of even heating of the slabs in cross-section, underlined Vladimyr Boyko, the general director of the PJSC «ILYICH IRON & STEEL WORKS». All in all we reduced gas consumption and thus we improved the economical rate of the work of the combinat.