5 September 2012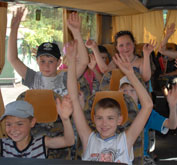 4 thousand 185 children of age from 7 to 16 years old had a good rest and improved their health in summer health-improving centers of PJSC "Ilyich Iron & Steel Works" "Solnechnyi", "Raduzhnyi", "Alyie parusa" during three summer months 2012. Costs of enterprise for maintenance of children's rest centers came to UAH 24,5 M. This amount is 15% higher in comparison with 2011. It is notable that the price of vouchers was kept practically at the same level: having a discount of 90% workers paid only UAH 300 for 21 day stay of their children in the centers.
The innovation of this health-improving campaign was granting of vouchers to the MMKI children's rest centers to the workers of other enterprises of Metallurgical Division of Metinvest. In each of 4 shifts they were granted with 100 vouchers to the rest center "Solnechnyi", situated at the seashore of Azov sea in Iurievka village, Pershotravnevyi district, Donetsk region.
All children's rest centers of PJSC "Ilyich Iron & Steel Works" are included to the State Register of Children's Rest Institutions. Their right to be included to the list of the best Ukrainian health-improving centers is recognized. Here metallurgists' children have everything for unforgettable rest: comfortable buildings, playgrounds, sports grounds, football fields with artificial surface, centers of children's creative work, developmental games and rich animation programs.
"Ilyich Iron & Steel Works" an affiliate of "Metinvest Holding" stands by principles of social policy, aimed at metallurgists' and their families' welfare support and improving, emphasized General Director of "Ilyich Iron & Steel Works", Vladimir Boyko. Systems approach to investment to health improvement allows us to work on the prospect, creating preconditions for development of talented and healthy youth".