24 July 2012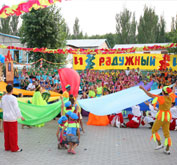 Despite the ongoing crisis Ilyich Works management is constantly working over optimization of its adverse effects so that they touch personnel social security as little as possible.
This is proved by the fact that this year again Ilyich Iron and Steel Works' collective agreement has been recognized to be the best at city collective agreement competition paying a special attention to personnel health and life protection.
Thus, since the beginning of recreation season about 4000 children have had a rest in child recreation centers of the company and above 5500 workers and their family members passed their vacation at boarding houses and shops' holiday villages. The company's costs for these activities amount more than 50 million hryvnias.
"We have not in the least decreased our attention to social programs. On the contrary, Metinvest Group has started realization of "City by our hands" and "Sanatorium Plus" programs. Due to the latter Ilyich's boarding houses operate where today besides Ilyich people workers from Azovstal, Khartsyzk Plant and Yenakievo Plant rest. Three child's recreation centers operate recognized by rights to be among the bests in Ukraine. They also accept children of workers from other companies of Metinvest Group," Vladimir Boiko, Director General of PJSC "Ilyich Iron and Steel Works" emphasized. "As before, we repair schools under our supervision, continue to improve our city under a social partnership agreement signed with city authorities. In the first half of the year we improved roads along M.-Sibiryaka, Novosibirskaya and Topolinaya Streets, repaired yard roads at 185 and 189 Metallurgov Ave., asphalt covering at City Hospital No.1 and performed many other works."