20 July 2012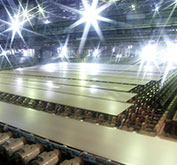 With the purpose of strategy realization on Metinvest market share enhancement through creation of new products by "Ilyich Iron and Steel Works" documentation and new technological processes are constantly developed for manufacturing sample products with new quality and dimension characteristics. In particular, considerable attention is paid to thermo-mechanical rolling during hot rolled plate production at Rolling Mill 3000.
"Today within the framework of project on new product designing and with the purpose of uptaking production of hot-rolled plates from high strength steel grades in an "as thermo-mechanically rolled" delivery condition a technology is developed and trial plate rolling is performed by Ilyich specialists providing compliance with the requirements of European Standards EN 10025:4 and EN 10149," Sergey Matvienkov, first deputy general director – chief engineer of "Ilyich Iron and Steel Works" PJSC emphasizes. "Preliminary acceptance testing of sample plate batches showed compliance with the requirements of the above mentioned standards and equipment reliability for serial production."
Further plans include realization of projects on new product development (in case of orders availability), uptaking high strength hot rolled plates from S500-S650 MC steel grades, strips with new quality characteristics for manufacturing high pressure gas and oil pipeworks at "ChTPZ" (Chelyabinsk Pipe Rolling Plant) OJSC.
As a work experience shows new product development plans' realization leads to an increase in orders volume, METINVEST® brand improvement at existing markets and allows to enter new markets which, undoubtedly, positively effects loading and employment of Ilyich Iron and Steel Works' departments.