5 July 2012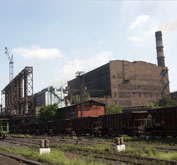 At Ilyich Iron & Steel Works, an affiliate of Metinvest holding, within the framework of realization of the complex program for decreasing anthropogenic environmental load, was successfully repaired sludge pumphouse No3 situated at the sinter plant. The sum of investments amounts to 1 million of hryvnas of Ukraine.
Sludge pumphouse transfers sludge water after wet cleaning of the sintering area and cooling area of the sinter plant, representing thus the "heart" of the sintering building.
During 10 days foreseen for repair teams of specialists of the Works performed reconstruction of four pumps GRT 1400/40, realized dismantling and mounting of wall metal constructions of the inlet chamber, replaced shutoff valves and inlet chamber self-service platform, repaired 80 running meters of the central chute of assembly trunk. During the repair new complexes of suction elements with rubberized inside metal surface for pumps were mounted. Use of these complexes will allow increasing the period of life of the equipment 4-5 times, i.e. up to 15 years.
"Development strategy of the Works is based on a complex program foreseeing increasing in efficiency of production in line with ecological impact decreasing, emphasized Alexander Smotrov, Deputy Chief Engineer of Ilyich Iron & Steel Works for Environmental Protection. – Particularly reconstruction and modernization of existing technologic and nature conservation facilities provide decreasing pollutant emissions in atmosphere, decreasing discharge of industrial sewage and their purification according to the European standards."