17 May 2012 // Ilyich Steel press-service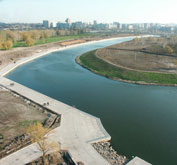 A tender procedure on feasibility study design for new sewage disposal plants at industrial sewage outlets 1 and 2 into the Kalchik River has completed at Ilyich Iron & Steel Works (MMKI), a part of Metinvest Group. An investment project by Siemens Ukraine Co. is recognized to be the most optimal and perspective one. The company, a subsidiary of Siemens Corporation, a long-time partner of Ukrainian steelmakers, offers a series of innovation techniques allowing to make steel production environmentally friendly and clean. This time the world-renowned supplier offered a complex solution for the problem of industrial sewage cleaning and disposal into water reservoirs.
«The project offers two principle moments at once," told Alexandr Smotrov, Deputy chief engineer on environment protection. «First of all, its realization will allow to provide industrial sewage cleaning into the Kalchik River in accordance with environmental regulations and even below the limit level permissible in Ukraine. And secondly, the Works will be able to considerably decrease power inputs, as 800 cubic meters of purified water will return to the recirculating water supply system every hour at industrial sewage outlet 2.»
The project study investments amount to US$300,000.
«We set an ambitious goal to make the sewage water cleaner than the water taken by the Works from the river», emphasized Sergey Matvienkov, First Deputy General Director-Chief Engineer of MMKI. «The further partnership consolidation between Metinvest Group and Siemens Ukraine, I am sure, will allow us to successfully solve this and other tasks on reduction of technogeneous environmental load.»