10 May 2012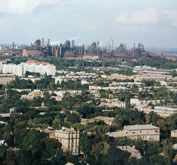 A capital repair of dust collector of aspiration system at stock house of blast furnace No.4 was performed in Blast Furnace Shop of PJSC "Ilyich Iron and Steel Works", a part of Metinvest Group.
Investments into capital repair comprised 2.1 mil. UAH. Project was designed by an engineering company. 80 t metal structures were manufactured at Ilyich. The repair works were carried out by «Oris», a specialized contractor. Virtually, all collector's assemblies and machinery were replaced during the furnace's environment protective equipment renewal.
The iron-melting unit stock house is a zone of high dust level due to charging machinery of the blast furnace located there. As a result, cleaning equipment correct operation, due care and timely maintenance directly effect both working conditions for operating personnel at the stock house area, and the state of environment. A considerable dust emissions reduction at the stock house area of BF-4 is a result of capital repair of the blast furnace aspiration system dust collector. Thus, if the dust level of 1292 mg of dust per air cubic meter is fixed at the aspiration system inlet, 66 mg/m3 is left after cleaning, the standard rate stipulated by the environmental regulations being 69.77 mg/m3. This value is shown in the aspiration unit technical certificate.
«We can surely state today that as a result of a complex cooperation of specialists of different departments of the Works, the BF4 aspiration system's capacities are fully restored," emphasized Sergey Matvienkov, First Deputy General Director -Chief Engineer of PJSC «Ilyich Iron and Steel Works». «This allows to forecast with confidence the cleaning equipment efficient operation at the nearest and medium-term future."
The renewal of an environment protective equipment complex within the frameworks of the second-order capital repair of blast furnace no.2 beginning May 10, 2012 will be the next large-scale ecological measure prepared in Blast Furnace Shop.