8 May 2012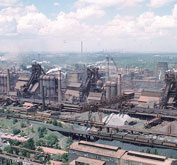 MMKI's Blast Furnace No2 (BF 2) with working volume of 1300 m3 is stopped for extended capital repair of second degree. Its average daily production capacity is about 1700 t of iron. Capital repair will take 60 days and will cost about USD 20 millions.
The main targets of this repair are to change bottom refractory lining of the iron-melting unit, to renew water-cooling panels, to develop self-cleaning filters for water cooling of the furnace, to update environmental equipment.
Total weight of metal constructions mounted on the BF 2 will be about 1.5 thousand tons. After works execution it is foreseen to increase unit capacity and to achieve higher rate of melted iron.
«Within the framework of the repair refractory concrete channels are to be mounted at the casting yard of the furnace. It will allow making considerable improvements of blast-furnace keepers working conditions at the Blast Furnace Shop», Sergey Dolia, Deputy General Engineer on Blast Furnace Production, Head of the repair, emphasized.