27 March 2012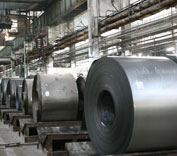 In the cold rolling mill of PJSC "Ilyich Iron & Steel Works" inside the group of Metinvest, a 24 hour complete overhaul of a continuous hot galvanizing unit in the value of 22 million hryvnas has been finished.
The length of the whole unit, where the works were conducted, is more than 200 meters, and the length of a furnace of a continuous hot galvanizing unit-2 is 160 meters, that's why the scale of repair works is quite considerable as in the size of scheduled operations so and in efforts. Every day in each shift more than 150 specialist-repairmen from the shops of the Chief Mechanic and the Chief Powerman were enabled.
During the overhaul breaking of a refractory layer of a furnace and it`s removal was made; replacement of metallic armor of a furnace, replacement of practically all electrical systems, modernization of manufacturing equipment of the continuous hot galvanizing unit were conducted.
Due to such substantial complete overhaul of one of the main units of the Cold Rolling Shop the production of the unconditioned products will be reduced, accordingly the cost price will decrease and the profitability and the quality of the output will increase. In addition the renovation of the definite technological systems will allow reducing a consumption of the natural gas on 1-2 %.
«A restoration of project norms and aggregate capacities of the continuous hot galvanizing unit №2 will allow the Works to manufacture the products of a greater quality and increase an output of accepted galvanized sheet on this unit up to 98%,- says the senior deputy of the General Director- Chief Engineer of PJSC "Ilyich Iron & Steel Works" Sergey Matvienkov. –And this in turn will help our enterprise to occupy a stable position at the market of galvanized metal production.