5 March 2012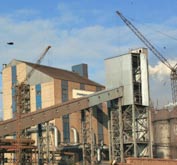 PJSC "Ilyich Iron & Steel Works" being the part of Metinvest Group finishes the construction of a complex of pulverized-coal injection into the blast furnaces. The realization of this large-scale investment project will allow refusing practically completely from expensive natural gas and reducing coke consumption that in the total will result in cutting of cast iron costs.
MinMetals Corporation (PRC) supplying the equipment is the partner of PJSC "Ilyich Iron & Steel Works". The project is fully adapted to the Ukrainian norms and regulations. The documentation has successfully come through all stages of appraisals and examinations for compliance with the Ukrainian legislation.
The main priority in realization of this project is to comply with all environmental protection activities.
Particularly, introduction of method of dust suppression by nitrogen at casting yards and modernization of gas feed control systems to air heaters is foreseen. These systems will be assembled and started simultaneously with the commissioning of the pulverized-coal injection complex. The main block of the complex – pulverized-coal injection plant itself - provides a fully sealed channel for coal pulverizing and pulverized coal delivery into blast furnaces (this fully eliminates any additional dust emissions), and also the equipping of coal pulverizers, reload units, bins at closed coal storage with modern advanced aspiration systems of the leading manufactures (SovPlim Closed Corporation, Russia, and EKO INSTAL, Poland).
«The project provides, that all produced coal dust, - underlines the head of the working draft of the pulverized-coal injection plant construction Vladimir Zlata, is collected by several sleeve-type aspiration devices and through special pipes comes into one channel and then again to the blast furnaces. The air-tightness of the plant is the main technical solution of the project, providing a closed cycle of pulverized coal circulation, preventing its emission to the environment. And this is a guarantee of a continuity of a technological process of coal pulverizing and its delivery into blast furnaces.
Building and construction works and energy system mounting are being finished at the present time at the construction site of the pulverized-coal injection complex. In May 2012 specialists are planning to start device test operation, and in July – to start technological tests directly with the pulverized-coal injection into the blast furnaces.