17 February 2012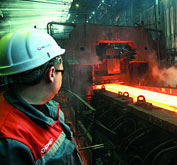 In sheet-rolling mill «1700» of Ilyich Iron and Steel Works of the Metinvest Group investment project of automatic control system of manufacturing processes (ACS MP) for slabing-1150 stands and the shearing process is being introduced. According to the working plan this investment project must be finished in March 2012. Its payback period is less than a year, and the economic effect after its introduction is more than 1, 5 million dollars a year.
The introduction of the project will allow more precisely keep records of the metal that comes through the reducing department during the transfer of rolled slabs to the sheet-rolling mill-1700. The main idea of the know-how consists in precise determination of geometric piece sizes before its cutting on the shears and geometric slab sizes after cutting with the following determination of their theoretical weight.
"The complex reconstruction that has been made in the shop allows not only automatically determine precise geometric sizes of pieces and slabs and their weight, but also provides stability of the rolling process, increases accuracy during slab cutting and the part of transit rolling,- pointed out the chief engineer of the Ilyich Iron and Steel Works Sergei Matvienkov. –And this in turn, allows to reduce energy resources costs, first of all natural gas and electric energy costs, and also increase the volume of commercial output at the expense of reducing metal specific consumption".