14 December 2011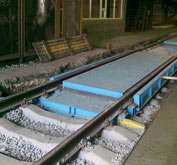 At the end of October, within the framework of a large-scale project on implementation of new metrological equipment, Rolling Mill 3000 Plate Shop of PJSC "Ilyich Iron and Steel Works", a part of Metinvest Group, started construction of electronic railway scales for finished product storage area having the value of 700 ths UAH. The new object is to be commissioned on December, 31.
The construction is going to schedule. For the moment all construction works are done, house tracks and cable routing are laid, scale's main machinery is mounted. The scales will be given for operation to Weighing Shop after installation of appropriate software for equipment servicing the object.
The project will allow to substantially decrease use of car fleet saving thereby considerable amounts of money for the company. Specifically, car loading will be performed with maximum precision due to the new electronic weighing equipment.