18 November 2011 // Press centre PJSC " Ilyich Iron and Steel Works"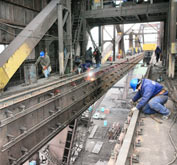 From the middle of August at the Sinter Plant Charge-Makeup Shop (at MMKI which is a part of Metinvest group), the capital repair of clam-type loader has been under way, the weight of the loader №2 is 1000 tonnes, the height is 32 meters. It will be used for the destacking of the prepared stacks and transfer of the charge materials to the stockyard.
The repair is planned to be finished in November. Estimated cost of capital repair is 10 mln. hryvnas.
The basic range of repair works include the repair of 93 meters of metal constructions of the main beams of gantry portal, the replacement of rails for transfer cars, the repair of cars and gantry portal travel mechanism, the repair of grab bucket lifting and closing mechanisms, the repair of the track for cars, that move on the gantry portal, the capital repair of 6 thyristor converters.
From the total volume of planned tasks concerning metal constructions change, more then 1/3 has already been performed.The preliminary works for grab transfer cars railing are nearly finished.
"This capital repair is not simple and unique in its own way", points out the head of the Charge Makeup Shop Michael Ananyev, " And it was initiated at the MMKI last year, when the clam-type loader -1 was repaired, which started working at 70-ties. There are three such clam-type loaders in Mariupol, two at the Sinter Plant of MMKI, one at "Azovstal". The performance of capital repair will provide continuous unloading of charge materials and will increase the capacity of slime, scale and dust processing e.t.c.
"In the course of reconstruction of clam-type loader №2 by the mid of November more than 99% of the basic range of repair works are already performed, the repairs schedule will be reduced on 3 days. On the 23 of November ( instead of 26th -acc. to the schedule) the electricians of CA " Promavtomatika" will start the commissioning" – stated the Deputy Head of Director General –Chief Engineer of MMKI- Sergey Matvienkov.