10 November 2011 // Press centre PJSC "MMK Ilyich"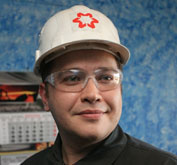 At PJSC "MMK Ilyich", an affiliate of Metinvest Group, a new safety standard "Locking - Marking - Control" is being implemented. "Locking - Marking - Control" system implementation aims to ensure safe production process during repairs and maintenance.
New labour protection approaches and principles used by MMKI have already proved their efficiency – during 10 months of 2011 the quantity of accidents has been decreased to 28% in comparison with the analogical period in 2010.
Implementation of a new project started with the staff training. At the first stage the main specialists, heads of the technical and production departments got to know the characteristics and principles of system application.
At the next stage an approbation of standard kits of locking devices during production in operation took place. Cold rolling shop has received kits of necessary equipment, "Locking - Marking - Control" system charts developed for it and also power cutting points have been determined. Before the end of the year BF and BOF shops will also take part in this testing.
«ММКI's dimensions differ from the majority of the enterprises of Metinvest Group. That's why it's very important for us to do our best to take into account the particularities and specificity of "Locking - Marking - Control" system application when working out the corporate standard for safety ensuring during execution of works," Valeriy Domanov, Deputy General Director, Head of the labour security and industrial safety department of MMKI emphasized.