25 October 2011 // Press centre PJSC "Ilyich Iron and Steel Works of Mariupol"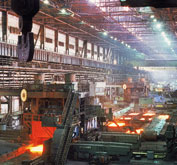 In late October a 7-day planned overhaul of Plate Rolling Mill 3000 has been started at PJSC "Ilyich Iron and Steel Works of Mariupol", which is the part of Metinvest Croup. The overhaul budget is 18, 7 million hryvnias. It is planned to complete the overhaul of the Rolling Mill by October 31.
The main scope of works includes replacement of devices for shock-free discharge of slabs at furnace №3, and change of lifting table reducer for slab charge. It is planned to update distributing reducers and rollers for transportation of furnace roll-tables. Within 7 days maintenance personnel must replace protection plates and renew the design dimensions of housing openings in roughing and finishing stands, and repair stand transfer tracks. There will also be carried replacement of two main drive shafts of finishing stand and mangle №1. Besides mechanisms for cutting and clearance adjusting of cross-cutting shears №1 will be restored. On the cutting line it is necessary to replace two conveyors for crop removal. Due to replacement of slide assemblies, draw rollers and clearance adjusting mechanisms, the side-trimming shears №3 and №4 will be renewed.
Much work is scheduled for inspection and replacement of disk-shaped rolls of the coolers and beds, as well as cutting line. To improve the power-generating equipment it will be carried out replacement of pipelines and valves, as well as repair and inspection of electrical equipment.
"In order not to stop the production string of manufacturing process at our Works it is necessary to repair metallurgical equipment in time, quickly and with high quality, " said Valerij Pushkov, Chief of Rolling Mill Shop 3000. Therefore preparation to overhaul has been done in advance, which will undoubtedly have a positive impact on its outcome.