6 September 2011 // Press centre PJSC "Ilyich Iron & Steel Works"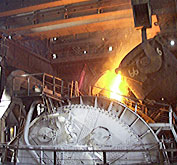 Steelmaking unit # 3 of the MMKI Converter shop has been stopped for three-day relining work. Repair cost is about $ 375 000.
During this cold current repair, bottom part of the boiler, water-cooled protection screen, and also some other types of work will be done.
Also, specialists of MMKI metallurgic furnaces repair shop, metallurgic equipment repair shop # 4, special-purpose organization "Energoremont" take part in this repair.
It is foreseen that the Converter #3 will be stopped for repair during 78 hours and after that steelmaking process will be continued in full volume.
Since the beginning of the year 2.5 million tons of converter steel have been produced by PJSC "Ilyich Iron & Steel Works".