5 September 2011 // Press centre PJSC "Ilyich Metal & Steel Works"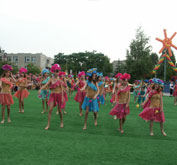 During this summer more than 4 730 children of enterprise's personnel have had a rest at three MMKI children's health-improving centers situated at the Azov sea shore. For these purposes MMKI has granted about 12 M UAH. Besides that, children of Works' personnel had a rest together with their parents at MMKI boarding houses, sanatorium-preventorium "Chaika", sanatorium "Ay-Danil" in Crimea, and shops' recreation centers.
Due to entering of our Works to Metinvest Group, this spring MMKI had a possibility to realize a meticulous preparation of Works' social and cultural facilities for summer season. Our enterprise has organized all the necessary repairs, territory improvement, has renovated playing, sport and economic inventory of health centers. An important attention was paid to educators and team leaders training in order to ensure safe, useful and interesting recreation program.
"PJSC "Ilyich Metal& Steel Works" creates all conditions to organize a good summer recreation for Works' personnel children" Deputy General Director on General services Semen Matsegora emphasized. – From the beginning of this year our enterprise has granted 4.5 M UAH to prepare children's health-improving centers for summer".