1 September 2011 // Press centre Metinvest Group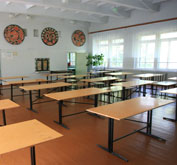 Thus, it is not the first year when, within the frameworks of agreement on social and economic cooperation between the city and the Works, a socially responsible company, llyich Iron and Steel Works, an affiliate of Metinvest Group, supports projects targeted at improvement and strengthening educational system for population in the region of the company's presence. This summer llyich Iron and Steel Works (MMKI) has rendered its sponsorship to 20 schools in the amount of 500 thousand hryvnias.
Presently repair works have been finished here. Sponsors carried out cost- and labour-consuming operations on replacement and repair of heating, water supply and sewerage systems in schools. Engineering and utility services rooms and facades were put to order. Infrastructure, electric wiring, lighting systems were inspected. A support was rendered in school territories improvement. In the course of the repair works they also replaced metal tubes with plastic ones and restored old wooden frames and doors. MMKI assisted not only with labour to perform scheduled works, but with materials, such as paint, glass, tubes, etc.
"Over the period of summer holidays on the basis of sponsorship the staffs of different departments of PJSC "llyich Iron and Steel Works" have repaired 20 schools, paying a special attention to the preparation of schools for winter," Semen Matsegora, Deputy General Director on General Services, emphasized. "As of today all scheduled works have been completed by us in full volume."