26 August 2011 // Press centre PJSC "Ilyich Iron and Steel Works"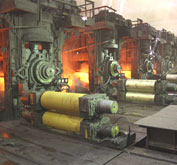 On August 25, Plate and Sheet Rolling Mill 1700 of Ilyich Iron and Steel Works was stopped for an 8-day overhaul within the program of modernization and technical re-equipment of Metinvest Group companies. The overhaul budget exceeds 23 million hryvnias.
In the course of the works there will be performed foundation repair of pinion stands 2 and 5, main drive repair of vertical stand 2, front planking replacement, hydraulics repair. There will also be carried out slabbing mill housing complex repair, conveyor belt, stands' main drives, roller beds and production automatic equipment repair in the shop.
"After finishing the overhaul in the shop the equipment emergency downtime and maintenance costs will decrease," Yuri Kurakin, Chief of RM-1700 states. "This will allow us to step up production and to make lower quantity of output rolled product rejects."