8 August 2011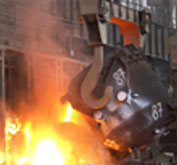 Open-Hearth Shop of Ilyich Iron and Steel Works, an affiliate of Metinvest Group, performed cold repair of open-hearth furnace No.6 in 8 days. The company's investment costs of this repair amount to 15 mln. UAH.
This revamping included comprehensive refractories repair, metal structures renovation, preparation for the changeover to a new type of oil-gas burners (in which fuel oil is dispersed not with air but with gas leading to fuel oil saving and increase in burners efficiency), reconstruction of the gas cleaning system of OHF No.6 and maintenance of auxiliary equipment of pouring cranes and charging machines.
In particular, main roof and uptakes were replaced, rear and front slopes of the furnace working space, magnesite-chrome roof and generating hot chambers were partially replaced. Furnace metal structures were repaired, water-cooled and evaporative cooling system elements were replaced and all the furnace machines were thoroughly inspected.
OHF No.6 was repaired for the last time in March 2011. During overhaul period, 291 heats - 900 t each - were performed at OHF No.6.
Since the beginning of the year, Ilyich Iron and Steel Works has produced over 1.4 mln. t of open-hearth steel.
«We always pay special attention to re-equipment and modernization of the main production facilities and today due to the support of Metinvest Group our capabilities in managing these issues have risen considerably, - noted General Director of PJSC "Ilyich Iron and Steel Works" Vladimir Boyko. – Implementing advanced approaches and technologies in maintenance operations, we create a firm basis for future efficiency of our manufacturing facilities and improvement in product quality."
Editorial notice

Metinvest is an international vertically integrated steel and mining group of companies, managing every link of the value chain, from mining and processing iron ore and coal to making and selling semi-finished and finished steel products. The Group comprises steel and mining production facilities located in Ukraine, Europe and the USA and has a sales network covering all key global markets. Metinvest Group is structured into three operating divisions: Coke and Coal Division, Iron ore Division, Steel and Rolled Products Division and has a strategic vision to become the leading vertically integrated steel producer in Europe, delivering sustainable growth and profitability resilient to business cycles and providing investors with returns at above the industry benchmarks.

The major shareholders of the Company METINVEST B.V (a holding company of Metinvest Group) are SCM Group (71.25% ownership) and Smart-Holding (23.75% ownership) partnering in Company's management.

METINVEST HOLDING, LLC is the managing company of Metinvest Group.