28 April 2011 // Press centre Metinvest Group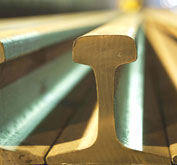 Metinvest is launching BOF steel rails production at Azovstal Iron and Steel Works. The manufacturing procedure for the rails production has been approved by Azovstal strategic partner «Ukrzaliznytsya».
Metinvest experts together with the State Research and Development Center of Ukraine «Energostal» have developed and evaluated the manufacturing practice for BOF steel rails and all delivery trials have been successful. Adoption of this advanced manufacturing practice will entail reduction in operating costs, energy consumption and improved total operating efficiency of the Company.
On the 28th of April during the meeting of the inter-departmental commission on BOF steel rails production held at Azovstal Iron and Steel Works with representatives of «Ukrzaliznytsya» involved, the decision has been made to enable production of railway rails of BOF steel.
«Adoption of high-technology manufacturing practices is one of the strategic tasks of Azovstal Iron and Steel Works and Metinvest Group aimed at improved operating efficiency, revamping of steel facilities, implementation of innovative approaches and expansion into new sales markets», says Enver Tskitishvili, Director General of PJSC «AZOVSTAL IRON AND STEEL WORKS».
Editorial notice:

PUBLIC JOINT STOCK COMPANY "AZOVSTAL IRON & STEEL WORKS" is a highly technological mill manufacturing a great variety of iron and steel products: slabs, steel bars and sections, rails, rail fasteners, squares, plates, metallurgical slag products. Azovstal's production capacities allow manufacture of over 5,5 million tons of iron, over 6,4 million tons of steel including 4.4 million tons of BOF steel, over 4,4 million tons of rolled products. Design capacity for manufacture of rail fasteners is 285 thousand tons per year, milling balls – 170 thousand tons per year.

Metinvest is an international vertically integrated mining and steel group of companies, operating assets in each link of the production chain from iron ore and coal mining and coke production, through to semi-finished and finished steel production, pipe rolling and coil production and production of other value-added products. The Group comprises mining and steel production facilities located in Ukraine, Europe and the USA and has a sales network covering all key global markets. The major shareholders of Metinvest are SCM Group (75% ownership) and Smart-Holding (25% ownership) partnering in Company's management.

METINVEST HOLDING, LLC – is the managing company of Metinvest Group.